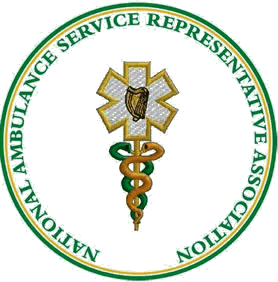 The National Ambulance Service Representative Association (NASRA) today (Weds.  26 th April) expressed support for calls from Gardai and Prison Officers for the introduction of mandatory sentences for those convicted of assault on their members and  other frontline emergency workers.
NASRA National Chairman, Michael Dixon said NASRA was joining in the call on the Government to introduce legislation that would finally send a clear and unambiguous message that it is unacceptable that paramedics and ambulance staff, firefighters , Gardai and prison officers can be assaulted in the course of carrying out their vital emergency and public safety roles.
'All of the indications and experience of emergency staff on the ground is that the current deterrents against assault on front line workers are no longer working.  It is no longer sufficient for ambulances to simple carry signs warning of the consequences of assault on ambulance crews. We need far more support from the Government and mandatory sentencing that says that any assault on frontline staff in the course of their duty is unacceptable and will not be tolerated .'
'The Government  has made hollow promises to  bring forward  specific legislation to protect emergency personnel from assault which would  send a clear message to those involved in such attacks that the law will deal with them harshly. The threat to emergency personnel, Gardai and prison officers will continue until the Government brings forward this legislation and we are calling for that legislation now', said Mr Dixon.
Media Contacts :  Michael Dixon 086-2704736 / Derek Cunningham 086-2430535