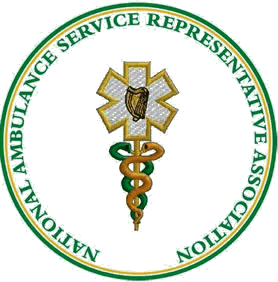 Ambulance personnel who are carrying out the most stressful and physically demanding work of all emergency frontline personnel are being obstructed by National Ambulance Service (NAS) management from accessing HSE long term absence benefits when injured at work, the National Ambulance Service Representative Association (NASRA) said today (Friday, April 17 th .) at its delegate meeting in Athlone.
NASRA National Secretary, Michael Dixon said the treatment of injured paramedics under the HSE- NAS injury at work policy is a disgrace and the rehabilitation of paramedics back from injury was practically non-existent. Paramedics with work related injuries find themselves increasingly facing bureaucratic hurdles in attempting to access benefits under the HSE injury at work, critical illness, serious assault and sick pay schemes.
'Changes to the sick leave policy for ambulance personnel, where after 12 weeks paramedics are struck off and become reliant on the social welfare no matter how long their length of service, are an insult to the work and dedication shown by paramedics throughout the country every day.'
Mr Dixon said female paramedics who become pregnant can find themselves being placed on sick leave because management will not actively identify opportunities for them to be redeployed away from front line duties.
'Paramedics who undertake an enormously stressful and physically demanding job deserve better. NASRA is demanding the implementation by the NAS of a comprehensive and fair sick leave policy for paramedics that protects their welfare and the welfare of their families who have to share the burden when a paramedic suffers injury or sickness as a result of their work.'
Mr Dixon said that since 2009 NAS paramedics have felt the full brunt of the austerity measures imposed by Government on pay and conditions of employment.
'During this period paramedics had made very difficult sacrifices on their pay and conditions to help facilitate the economic recovery while at the same time they continued to provide professional pre-hospital emergency care to the people of this country. But after the dark days of the recession NASRA is demanding a reversal of these measures so that the recovery we are hearing so much about is one that can be felt by all workers.'
'Unemployed levels are expected to drop to single figure percentages for the first time for nearly six years. Consumer confidence is growing with people spending again and the banks beginning to open the lending books. While all of this is good news for a Government facing into a General Election, paramedics can legitimately asked 'What will the recovery mean for me?'
'The answer is 'Not a lot'. The NAS paramedic has seen their pay reduced by 20%, their sick pay scheme dismantled and they have witnessed an exodus of staff. They work longer shifts and more nights, have longer travelling times to and from their workplace and less time with their families. Under Haddington Road we had to take on the injustice of working one hour free per week.'
'Against this background, NASRA, together with other public sector unions, is calling on the Government to reverse the Universal Social Charge and the Income Levy. This will be a key NASRA demand in the run up to the next budget and forthcoming General Election.
Mr Dixon said the issue of the retirement age for NAS Paramedics on the frontline of pre-hospital emergency care must be addressed.
'The minimum retirement age for paramedics must be reduced to 60 years of age in recognition of both the psychological and physical impact of the profession which is far greater than that experienced in other occupations. This impact is compounded by the fact that legislation (The Organisation of Working Time Act.) excludes paramedics from guaranteed periods of rest and maximum hours worked.'
'Paramedics, who are the first response in all medical emergencies, face one of the most stressful and demanding working environments of any workers in the country. Yet we are the not treated equally in relation to retirement age and pension entitlements as other frontline 'Blue Light' services. This anomaly has to end.'
Media Contacts: Derek Cunningham 086-2430535