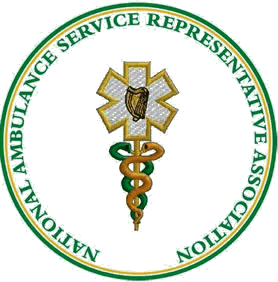 PNA says HSE cannot dictate the choice of union for Ambulance Personnel
Members of the Psychiatric Nurses Association (PNA) in the National Ambulance Service will tomorrow (Wednesday 10 th Oct. ) commence  industrial action in protest at the continued refusal by the HSE to engage in negotiations with the PNA when representing the interests of their ambulance personnel members, and the refusal to make payroll deductions of union subscriptions for ambulance personnel members.
PNA balloted members of its ambulance service personnel branch (the National Ambulance Service Representative Association NASRA) for industrial action in August and received an overwhelming  vote in favour of action up to and including strike.
Peter Hughes, General Secretary of PNA,,of which NASRA is a union branch, said the growing numbers of ambulance service personnel (including paramedics advanced paramedics and emergency medical technicians) who wish to join NASRA, and exercise their fundamental right to organise and join the union of their choice are not prepared to have such basic trade union rights dictated to them by the HSE.
Mr Hughes said it is baffling in the extreme as to why the HSE has chosen to confront NASRA members on this issue of fundamental workers' rights, and it can only be concluded that seven years after NASRA was formed as a branch of PNA that the HSE is attempting to stop the work and expansion of NASRA, and force ambulance personnel throughout the country to remain in another union that they do not want to be part of. 
'This cannot, and will not be allowed to happen. NASRA was established as a branch of the PNA for ambulance service personnel and the  HSE is now attempting to stop the growth of the NASRA branch by refusing to facilitate payroll deductions of subscriptions, or negotiate with NASRA as an established branch of the PNA.'
'The PNA once again calls on the HSE to engage with it in order to resolve these issues.'
NASRA, National Chairperson, Sinead McGrath said members throughout the country are determined not to allow the  HSE  to frustrate the development  of NASRA  as a legitimate union branch of PNA  representing growing numbers of ambulance personnel..
The initial phase of the industrial action by NASRA branch members which will commence at 7 a.m. tomorrow will include:
•             Vehicles which do not comply with the Vehicle Daily Inspections (VDI) will be stood down at the location and not moved to any other location.
•             All vehicles not in compliance with Health & Safety Legislation will be stood down.
•             All vehicles not in compliance with HSE Ambulance Drugs Policy will be stood down.
•             Members will refrain from using their own personal equipment and technology for work purposes unless they are in receipt of an allowance for same.
•             Where a vehicle is deemed to be not roadworthy, it will be immediately stood down and remain at that location for transporting by relevant maintenance personnel.
•             Members not in possession of full uniform and PPE, which is free from contamination, will stand down.
•             Members will only commence duty at official roster time.
Media Contacts:   Peter Hughes 087 2103514, Sinead McGrath, 087-766 8814, Derek Cunningham 086-2430535,
Derek Cunningham 
086-2430535