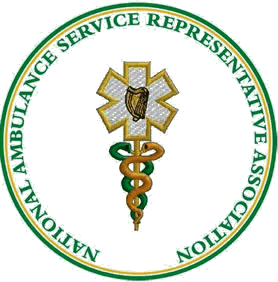 Following a meeting of its Officer Board in Athlone today (Monday, 4 th March) the National Ambulance Service Representative Association,(NASRA) said it is reluctantly embarking on a series of actions in response to the proposals to cut the pay and allowances of front line paramedics under the proposed Croke Park extension agreement.
NASRA National Chairman, Michael Dixon said paramedics now feel they have been backed into a corner in the whole Croke Park II process.
The Officer Board today decided that it will embark on a three phase plan of protest against the government's proposals. The first phase of the action will start on March 15 th . From that date NASRA members will
•  Withdraw the goodwill use of private mobiles while on duty.
•  Only use Ambulance Control Sat Navigation system.
•  Refuse non rostered duty at public events.
•  Refuse to use personal laptops to facilitate training and up skilling.
'In taking they actions frontline paramedics are laying down a marker for the Government that they will tolerate any further cuts in their pay, directly or through cuts in allowances, as proposed under the 'Croke Park II agreement .
'We have accepted a reduction in pay of up to 30%", punishing roster changes and extended hours. We have also engaged in continued professional development and seen the introduction of 'green hours' (unpaid hours accrued), continuous up skilling and far reaching changes to work practices. Paramedics have nothing more to give.'
The existing Croke Park Agreement (2010-2014) has delivered savings, cost effectiveness and efficiencies across the public sector and particularly in the health sector of up to €3.5 billion
'Paramedics have delivered more changes and savings than any group under the original Croke Park Agreement but are not to be treated with any fairness or equality when it comes to the implementation by the Government of this new agreement.'
'While prison officers and firefighters are to be exempt from the savage cuts in pay and allowances in Croke Park II there will be no similar exemption for Paramedics and Advanced Paramedics who deliver the same 24/7 frontline service as these other groups, and who have taken on massive changes in their working conditions and terms under Croke Park 1.
Among the changes and reconfiguration of the NAS facilitated by Paramedics and Advanced Paramedics are:
•  National standardizing of Control Room operations
•  New rostering from 8 hour shifts to 12 hour.
•  C0-operation with hospital reconfiguration program
•  Redeployment changes
•  Introduction of 'Lone Workers' to the service
•  Eradication of overtime.
•  Deduction of Sick Leave even though paramedics work permanently in a high risk environment.
•  Moratorium on recruitment and promotion.
•  Continuous in-service training and up-skilling and support for the introduction of new drugs to the service.
'The frontline services are the life blood of providing 24/7 emergency care and emergency services, but paramedics are not prepared to have their professionalism and dedication taken for granted by a Government that continuously targets their pay and conditions.
Media Contacts : Mick Dixon 086-2704736/ Tony Gregg 0863344186/ Derek Cunningham 086-2430535