THE BURDEN OF THE BANK BAILOUTS CAN NO LONGER BE JUSTIFIED OR TOLERATED BY THE IRISH WORKER OR THE IRISH CITIZEN.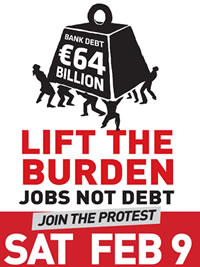 NASRA WILL MARCH ON FEBUARY 9 th IN PROTEST AT THE SAVAGE CUTS TO DATE AND FURTHER CUTS TO COME IMPOSED ON THE PAY AND CONDITIONS OF THE NATIONAL AMBULANCE SERVICE EMPLOYEE.
There are 6 March Centres : Dublin, Waterford, Sligo, Galway, Limerick and Cork
Assemble at 1pm

JOIN WITH US IN UNITY ON THIS DAY OF PROTEST FOR NAS FRONTLINE EMERGENCY PERSONNEL.